September was one hell of a busy month. The only reason I purchased this many books/graphic novels was all thanks to one of the events I attended: Fan Expo Canada. It was there that I managed to pick up the majority of these graphic novels and books. Please continue reading below for more detail on the books that I purchased this past month!
---
– BOOKS –
The Rest of Us Just Live Here
Author: Patrick Ness

Publisher: Walker Books

Genre: Young Adult, Contemporary, Fantasy

Release Date: August 27th 2015

Page Count: 352
ISBN: 9781406331165

Goodreads Synopsis: What if you aren't the Chosen One? The one who's supposed to fight the zombies, or the soul-eating ghosts, or whatever the heck this new thing is, with the blue lights and the death? What if you're like Mikey? Who just wants to graduate and go to prom and maybe finally work up the courage to ask Henna out before someone goes and blows up the high school. Again.
---
Wolf In White Van
Author: John Darnielle

Publisher: Farrar, Straus and Giroux

Genre: Contemporary, Science Fiction

Release Date: September 16th 2014

Page Count: 208
ISBN: 9780374292089

Goodreads Synopsis: Welcome to Trace Italian, a game of strategy and survival! You may now make your first move. Isolated by a disfiguring injury since the age of 17, Sean Phillips crafts imaginary worlds for strangers to play in. From his small apartment in Southern California, he orchestrates fantastic adventures where possibilities, both dark and bright, open in the boundaries between the real and the imagined. As the creator of Trace Italian – a text-based, roleplaying game played through the mail – Sean guides players from around the world through his intricately imagined terrain, which they navigate and explore, turn by turn, seeking sanctuary in a ravaged, savage future America. Lance and Carrie are high school students from Florida, explorers of the Trace. But when they take their play into the real world, disaster strikes, and Sean is called to account for it. In the process, he is pulled back through time, tunneling toward the moment of his own self-inflicted departure from the world in which most people live. Brilliantly constructed, Wolf in White Van unfolds in reverse until we arrive at both the beginning and the climax: the event that has shaped so much of Sean's life. Beautifully written and unexpectedly moving, John Darnielle's audacious and gripping debut novel is a marvel of storytelling brio and genuine literary delicacy.

---
Dumplin'
Author: Julie Murphy

Publisher: Balzer + Bray

Genre: Young Adult, Contemporary

Release Date: September 15th 2015

Page Count: 384
ISBN: 9780062327185

Goodreads Synopsis: Self-proclaimed fat girl Willowdean Dickson (dubbed "Dumplin'" by her former beauty queen mom) has always been at home in her own skin. Her thoughts on having the ultimate bikini body? Put a bikini on your body. With her all-American beauty best friend, Ellen, by her side, things have always worked…until Will takes a job at Harpy's, the local fast-food joint. There she meets Private School Bo, a hot former jock. Will isn't surprised to find herself attracted to Bo. But she is surprised when he seems to like her back. Instead of finding new heights of self-assurance in her relationship with Bo, Will starts to doubt herself. So she sets out to take back her confidence by doing the most horrifying thing she can imagine: entering the Miss Clover City beauty pageant—along with several other unlikely candidates—to show the world that she deserves to be up there as much as any twiggy girl does. Along the way, she'll shock the hell out of Clover City—and maybe herself most of all. With starry Texas nights, red candy suckers, Dolly Parton songs, and a wildly unforgettable heroine—Dumplin' is guaranteed to steal your heart.

---
– GRAPHIC NOVELS –
Saga, Volume 5.
Author: Brian K. Vaughan Illustrator: Fiona Staples
Publisher: Image Comics

Genre: Graphic Novel, Sequential Art, Science Fiction

Release Date: September 15th 2015
Page Count: 152
Format: Paperback
ISBN: 9781632154385
Goodreads synopsis: Multiple storylines collide in this cosmos-spanning new volume. While Gwendolyn and Lying Cat risk everything to find a cure for The Will, Marko makes an uneasy alliance with Prince Robot IV to find their missing children, who are trapped on a strange world with terrifying new enemies.
---
Nimona
Author: Noelle Stevenson

Publisher: Harper Collins

Genre: Graphic Novel, Fantasy

Release Date: May 12th 2015

Page Count: 272
ISBN: N/A

Goodreads Synopsis: The graphic novel debut from rising star Noelle Stevenson, based on her beloved and critically acclaimed web comic, which Slate awarded its Cartoonist Studio Prize, calling it "a deadpan epic." Nemeses! Dragons! Science! Symbolism! All these and more await in this brilliantly subversive, sharply irreverent epic from Noelle Stevenson. Featuring an exclusive epilogue not seen in the web comic, along with bonus conceptual sketches and revised pages throughout, this gorgeous full-color graphic novel is perfect for the legions of fans of the web comic and is sure to win Noelle many new ones. Nimona is an impulsive young shapeshifter with a knack for villainy. Lord Ballister Blackheart is a villain with a vendetta. As sidekick and supervillain, Nimona and Lord Blackheart are about to wreak some serious havoc. Their mission: prove to the kingdom that Sir Ambrosius Goldenloin and his buddies at the Institution of Law Enforcement and Heroics aren't the heroes everyone thinks they are. But as small acts of mischief escalate into a vicious battle, Lord Blackheart realizes that Nimona's powers are as murky and mysterious as her past. And her unpredictable wild side might be more dangerous than he is willing to admit.

---
The Wicked + The Divine, Vol.1: The Faust Act

Author: Kieron Gillen, Illustrator: Jamie McKelvie

Publisher: Image Comics

Genre: Graphic Novel, Fantasy

Release Date: November 12th 2014

Page Count: 144
ISBN: 9781632150196

Goodreads Synopsis: Every ninety years, twelve gods incarnate as humans. They are loved. They are hated. In two years, they are dead. The team behind critical tongue-attractors like Young Avengers and PHONOGRAM reunite to create a world where gods are the ultimate pop stars and pop stars are the ultimate gods. But remember: just because you're immortal, doesn't mean you're going to live forever.

---
Wytches, Vol.1

Author: Scott Snyder Illustrator: Jock
Publisher: Image Comics

Genre: Graphic Novel, Sequential Art, Horror

Release Date: June 24th 2015
Page Count: 144
Format: Paperback
ISBN: 9781632153807
Goodreads synopsis: Everything you thought you knew about witches is wrong. They are much darker, and they are much more horrifying. Wytches takes the mythology of witches to a far creepier, bone-chilling place than readers have dared venture before. When the Rooks family moves to the remote town of Litchfield, NH to escape a haunting trauma, they're hopeful about starting over. But something evil is waiting for them in the woods just beyond town. Watching from the trees. Ancient…and hungry.
---
The Fade Out, Vol.1: Act One
Author:  Ed Brubaker, Illustrator: Sean Phillips
Publisher: Image Comics
Genre: Graphic Novel, Mystery, Noir, Crime
Page Count: 124
Format: eBook provided by NetGalley
ISBN: 9781632151711
Goodreads synopsis: Brubaker and Phillips' newest hit series, The Fade Out, is an epic noir set in the world of noir itself, the backlots and bars of Hollywood at the end of its Golden Era. A movie stuck in endless reshoots, a writer damaged from the war and lost in the bottle, a dead movie star and the lookalike hired to replace her. Nothing is what it seems in the place where only lies are true. The Fade Out is Brubaker and Phillips' most ambitious project yet!
---
East of West, Vol.1: The Promise

Author: Jonathan Hickman, Illustrator: Nick Dragotta

Publisher: Image Comics

Genre: Graphic Novel, Science Fiction

Release Date: September 11th 2013

Page Count: 128
ISBN: 9781607067702

Goodreads Synopsis: This is the world. It is not the one we wanted, but it is the one we deserved. The Four Horsemen of the Apocalypse roam the Earth, signaling the End Times for humanity, and our best hope for life, lies in DEATH.

---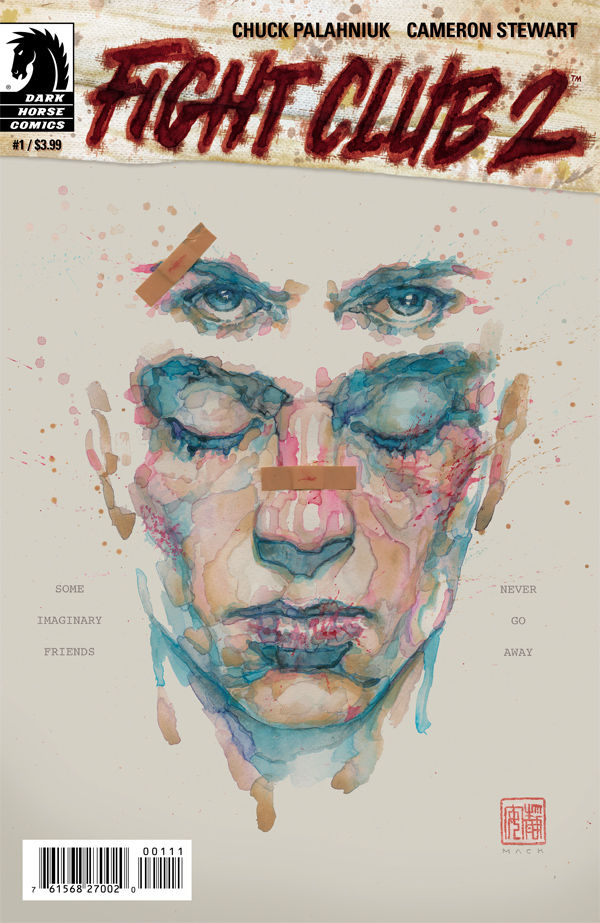 Fight Club 2: Issue #1

Author: Chuck Palahniuk

Publisher: Dark Horse

Genre: Comics, Fiction

Release Date: May 2015

Page Count: 34
ISBN: N/A

Goodreads Synopsis: Some imaginary friends never go away . . . Ten years after starting Project Mayhem, he lives a mundane life. A kid, a wife, pills to keep his destiny at bay. But it won't last long; the wife has seen to that. The time has come . . . Rize or Die.

---
– AUDIO BOOKS –
The Utterly Uninteresting and Unadventurous Tales of Fred,
The Vampire Accountant
Author: Drew Hayes

Publisher: Audible Audio

Genre: Fantasy, Paranormal, Humour

Release Date: February 24th 2015
Total Length: 7 hours & 2 minutes

Audible Link: The Utterly Uninteresting and Unadventurous Tales of Fred,
The Vampire Accountant 

Goodreads synopsis: Some people are born boring. Some live boring. Some even die boring. Fred managed to do all three, and when he woke up as a vampire, he did so as a boring one. Timid, socially awkward, and plagued by self-esteem issues, Fred has never been the adventurous sort. One fateful night – different from the night he died, which was more inconvenient than fateful – Fred reconnects with an old friend at his high school reunion. This rekindled relationship sets off a chain of events thrusting him right into the chaos that is the parahuman world, a world with chipper zombies, truck driver wereponies, maniacal necromancers, ancient dragons, and now one undead accountant trying his best to "survive." Because even after it's over, life can still be a downright bloody mess.
---
Helter Skelter: The True Story of the Manson Murders
Author: Vincent Bugliosi

Publisher: Audible Studios

Genre: Non-Fiction, True Crime

Release Date: September 13th 2011
Total Length: 26 hours & 33 minutes

Audible Link: Helter Skelter: The True Story of the Manson Murders

Goodreads synopsis: Prosecuting attorney in the Manson trial Vincent Bugliosi held a unique insider's position in one of the most baffling and horrifying cases of the 20th century: the cold-blooded Tate-LaBianca murders carried out by Charles Manson and four of his followers. What motivated Manson in his seemingly mindless selection of victims, and what was his hold over the young women who obeyed his orders? Now available for the first time in unabridged audio, the gripping story of this famous and haunting crime is brought to life by acclaimed narrator Scott Brick.
---
– ARCS –
The Death and Life of Zebulon Finch, Volume 1: At The Edge of Empire
Author: Daniel Kraus

Publisher: Simon & Schuster

Genre: Young Adult, Horror, Fantasy

Release Date: October 27th 2015
Page Count: 656

ISBN: 9781481411394

Goodreads synopsis: May 7, 1896. Dusk. A swaggering seventeen-year-old gangster named Zebulon Finch is gunned down on the shores of Lake Michigan. But after mere minutes in the void, he is mysteriously resurrected. His second life will be nothing like his first. Zebulon's new existence begins as a sideshow attraction in a traveling medicine show. From there, he will be poked and prodded by a scientist obsessed with mastering the secrets of death. He will fight in the trenches of World War I. He will run from his nightmares—and from poverty—in Depression-era New York City. And he will become the companion of the most beautiful woman in Hollywood. Love, hate, hope, and horror—Zebulon finds them. But will he ever find redemption? Ambitious and heartbreaking, The Death & Life of Zebulon Finch, Volume 1: At the Edge of Empire is the epic saga of what it means to be human in a world so often lacking in humanity.