Life has been really busy lately, but I'm still really happy with the amount that I read! Hopefully things ease up a little in August and I can get a a tad bit more reading done than I did in July! Below you will find a list of everything I read in July 2015!
---
Old Green World

Author: Walter Basho

Publisher: Craft Fiction

Genre: Science Fiction, LGBTQ+

Release Date: May 19th 2015

Page Count: 224
ISBN: 9780996153812
Goodreads Synopsis: The apocalypse happened 4000 years ago; now, a wild forest covers the world. Albert Todorov, an immigrant military prodigy, lives on an island, in the shadow of the forest. He loves Thomas Newton, a boy he can never marry. A new island civilization is blossoming, led by strange monks called the Adepts–who have power over matter and the mind–and their holy figures, the mysterious Old People. They plan to storm the forest, to tame it for civilization. The forest doesn't care. It is patient and vast. This is what happens. Walter Basho's first novel extends the patterns and practices of genre fiction to explore perception, identity, and culture. It is a science fantasy adventure, a coming-of-age story, a romance, and a meditation on what it means for the world to end.
---
Boy Meets Boy

Author: David Levithan

Publisher: Alfred A. Knopff

Genre: Young Adult, Contemporary, LGBTQ+

Release Date: May 10th 2005 (first published September 9th 2003)

Page Count: 185
ISBN: 9780375832994
Goodreads Synopsis: This is the story of Paul, a sophomore at a high school like no other: The cheerleaders ride Harleys, the homecoming queen used to be a guy named Daryl (she now prefers Infinite Darlene and is also the star quarterback), and the gay-straight alliance was formed to help the straight kids learn how to dance. When Paul meets Noah, he thinks he's found the one his heart is made for. Until he blows it. The school bookie says the odds are 12-to-1 against him getting Noah back, but Paul's not giving up without playing his love really loud. His best friend Joni might be drifting away, his other best friend Tony might be dealing with ultra-religious parents, and his ex-boyfriend Kyle might not be going away anytime soon, but sometimes everything needs to fall apart before it can really fit together right. This is a happy-meaningful romantic comedy about finding love, losing love, and doing what it takes to get love back in a crazy-wonderful world.
---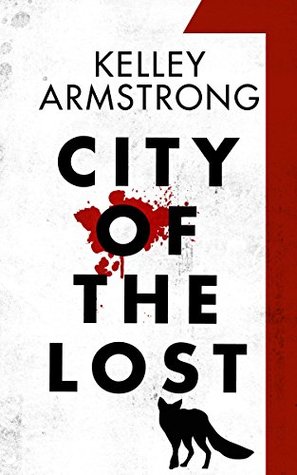 City of the Lost: Part One

Author: Kelley Armstrong

Publisher: Random House Canada

Genre: Fiction, Suspense

Release Date: June 30th 2015

Page Count: 80
ISBN: 9780345816153

Goodreads Synopsis: N/A

---
Outcast, Vol.1: A Darkness Surrounds Him

Author: Robert Kirkman, Illustrator: Paul Azaceta

Publisher: Image Comics

Genre: Graphic Novel, Horror

Release Date: January 15th 2015

Page Count: 152
ISBN: 9781632150530

Goodreads Synopsis: Kyle Barnes has been plagued by demonic possession all his life and now he needs answers. Unfortunately, what he uncovers along the way could bring about the end of life on Earth as we know it.
---
The Blue

Author: Lucy Clarke

Publisher: Simon & Schuster Canada

Genre: Fiction, Suspense

Release Date: August 11th 2015

Page Count: 336

ISBN: 9781501116735

Goodreads Synopsis: In the tradition of Alex Garland's The Beach, a spine-tingling adventure novel about a group of friends whose journey around the world on a yacht turns from a trip to paradise into a chilling nightmare when one of them disappears at sea. A group of friends.  A yacht.  And a disappearance-at-sea that turns paradise into a chilling nightmare. Lana and her best friend Kitty leave home looking for freedom—and that's exactly what they find when they are invited onto The Blue, a fifty-foot yacht making its way from the Philippines to New Zealand. The crew is made up of a group of young travellers bitten by wanderlust, and it doesn't take long for Lana and Kitty's dream of sea-bound romance to turn into reality. Both women fall under the hypnotic spell of The Blue, spending their days exploring remote islands and their rum-filled nights relaxing on deck beneath the stars. But when one of their friends disappears overboard after an argument with another crewmember, the dark secrets that brought each of them aboard start to unravel. At turns gorgeously scenic and entirely haunting, The Blue is a page-turning thriller about friendship, freedom and wanting to leave the past behind.

My Review (Coming Soon)
---
Finding Audrey

Author: Sophie Kinsella

Publisher: Delacorte Books for Young Readers

Genre: Young Adult, Romance, Mental Health

Release Date: June 9th 2015

Page Count: 288
ISBN: 9780553536515

Goodreads Synopsis: From the #1 New York Times bestselling author of the Shopaholic series comes a terrific blend of comedy, romance, and psychological recovery in a contemporary YA novel sure to inspire and entertain. An anxiety disorder disrupts fourteen-year-old Audrey's daily life. She has been making slow but steady progress with Dr. Sarah, but when Audrey meets Linus, her brother's gaming teammate, she is energized. She connects with him. Audrey can talk through her fears with Linus in a way she's never been able to do with anyone before. As their friendship deepens and her recovery gains momentum, a sweet romantic connection develops, one that helps not just Audrey but also her entire family.

My Review