Hey guys! I'm so sorry I haven't been posting a lot recently! I've been tied up at a freelance design gig that I'm working at right now but not to worry, I am still reading and I will continue to update this blog as often as I can!
It's almost the end of March which means it's time to talk about the books that I am most excited to get my hands on in the month of April!
---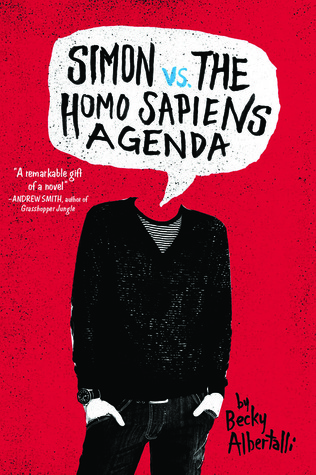 Simon vs. The Homo Sapiens Agenda 
Author: Becky Albertalli
Publisher: Balzer + Bray
Genre: Young Adult, Contemporary, LGBTQ
Release Date: April 7th 2015
Page Count: 320
ISBN: 9780062348678
Goodreads Synopsis: Sixteen-year-old and not-so-openly gay Simon Spier prefers to save his drama for the school musical. But when an email falls into the wrong hands, his secret is at risk of being thrust into the spotlight. Now Simon is actually being blackmailed: if he doesn't play wingman for class clown Martin, his sexual identity will become everyone's business. Worse, the privacy of Blue, the pen name of the boy he's been emailing, will be compromised. With some messy dynamics emerging in his once tight-knit group of friends, and his email correspondence with Blue growing more flirtatious every day, Simon's junior year has suddenly gotten all kinds of complicated. Now, change-averse Simon has to find a way to step out of his comfort zone before he's pushed out—without alienating his friends, compromising himself, or fumbling a shot at happiness with the most confusing, adorable guy he's never met.
Why I'm excited: This sounds like such a great coming of age story. The synopsis gives me hints of Will Grayson, Will Grayson with a bit of I'll Give You The Sun which were both some pretty great contemporary reads. I've been on a contemporary kick lately and this seems like a great story to add to the list!
---
The Queen of Bright and Shiny Things
Author: Ann Aguirre
Publisher: Feiwel & Friends
Genre: Young Adult, Contemporary, Romance
Release Date: April 7th 2015
Goodreads Synopsis: Sage Czinski is trying really hard to be perfect. If she manages it, people won't peer beyond the surface, or ask hard questions about her past. She's learned to substitute causes for relationships, and it's working just fine… until Shane Cavendish strolls into her math class. He's a little antisocial, a lot beautiful, and everything she never knew she always wanted. Shane Cavendish just wants to be left alone to play guitar and work on his music. He's got heartbreak and loneliness in his rearview mirror, and this new school represents his last chance. He doesn't expect to be happy; he only wants to graduate and move on. He never counted on a girl like Sage. But love doesn't mend all broken things, and sometimes life has to fall apart before it can be put back together again…
Why I'm excited: By the synopsis alone, this has the potential to be a little cheesy and predictable. I'm hoping that I'm wrong because as stated before I'm really just in the mood for some contemporary reads. Let's hope this isn't a huge cliché.
---
None of the Above
Author: I.W. Gregorio
Publisher: Balzer + Bray
Genre: Young Adult, Contemporary, LGBTQ
Release Date: April 7th 2015
Page Count: 352
ISBN: 9780062335319
Goodreads Synopsis: A groundbreaking story about a teenage girl who discovers she was born intersex . . . and what happens when her secret is revealed to the entire school. Incredibly compelling and sensitively told, None of the Above is a thought-provoking novel that explores what it means to be a boy, a girl, or something in between. What if everything you knew about yourself changed in an instant? When Kristin Lattimer is voted homecoming queen, it seems like another piece of her ideal life has fallen into place. She's a champion hurdler with a full scholarship to college and she's madly in love with her boyfriend. In fact, she's decided that she's ready to take things to the next level with him. But Kristin's first time isn't the perfect moment she's planned–something is very wrong. A visit to the doctor reveals the truth: Kristin is intersex, which means that though she outwardly looks like a girl, she has male chromosomes, not to mention boy "parts." Dealing with her body is difficult enough, but when her diagnosis is leaked to the whole school, Kristin's entire identity is thrown into question. As her world unravels, can she come to terms with her new self?
Why I'm excited: This is honestly sounds unlike anything I have ever read before. I can't even describe how glad I am that there are topics such as these being brought into the young adult genre. The whole point of the young adult genre in my opinion is to provide young adults with something they can relate to. I can't imagine how hard it must be for young adults who deal with issues such as those presented in the book to find a book that they can relate to. None of the Above seems like a promising story to pave the way for more stories regarding such topics.
---
99 Days
Author: Katie Cotugno
Publisher: Balzer + Bray
Genre: Young Adult, Contemporary, Romance
Release Date: April 21st 2015
Page Count: 384
ISBN: 9780062216380
Goodreads Synopsis: Day 1: Julia Donnelly eggs my house my first night back in Star Lake, and that's how I know everyone still remembers everything—how I destroyed my relationship with Patrick the night everything happened with his brother, Gabe. How I wrecked their whole family. Now I'm serving out my summer like a jail sentence: Just ninety-nine days till I can leave for college, and be done. Day 4: A nasty note on my windshield makes it clear Julia isn't finished. I'm expecting a fight when someone taps me on the shoulder, but it's just Gabe, home from college and actually happy to see me. "For what it's worth, Molly Barlow," he says, "I'm really glad you're back." Day 12: Gabe got me to come to this party, and I'm actually having fun. I think he's about to kiss me—and that's when I see Patrick. My Patrick, who's supposed to be clear across the country. My Patrick, who's never going to forgive me.
Why I'm excited: I had the opportunity to read an advance preview of the first chapter of this book and I can honestly say I wasn't expecting to like it as much as I did. My initial thoughts after reading the synopsis was that it was just going to be another typical love story. After reading the first chapter, I found myself wanting to read more and right away. I'm actually really fond of advance previews. They can literally either make or break the hype surrounding a new novel.
---
Alright, so those are the top books that I'm exited to get my hands on during the month of April! Did I introduce you to a new book that you weren't planning on reading until now? What books are you the most excited to get your hands on in April?
---