Author:  Ed Brubaker
Illustrator: Sean Phillips
Publisher: Image Comics
Genre: Graphic Novel, Mystery, Noir, Crime
Page Count: 124
Format: eBook provided by NetGalley
ISBN: 9781632151711
---
Author Website | Illustrator Website | Purchase on Amazon | Book Depository | Goodreads
---
---
I had only first heard about The Fade Out while browsing through NetGalley. The cover instantly grabbed my attention with its watercolour-esque typewriter and blood spatter and as I have been in a kind of graphic novel kick recently I decided to give this one a try.
Goodreads synopsis: Brubaker and Phillips' newest hit series, The Fade Out, is an epic noir set in the world of noir itself, the backlots and bars of Hollywood at the end of its Golden Era. A movie stuck in endless reshoots, a writer damaged from the war and lost in the bottle, a dead movie star and the lookalike hired to replace her. Nothing is what it seems in the place where only lies are true. The Fade Out is Brubaker and Phillips' most ambitious project yet! Collects THE FADE OUT issues #1 to #4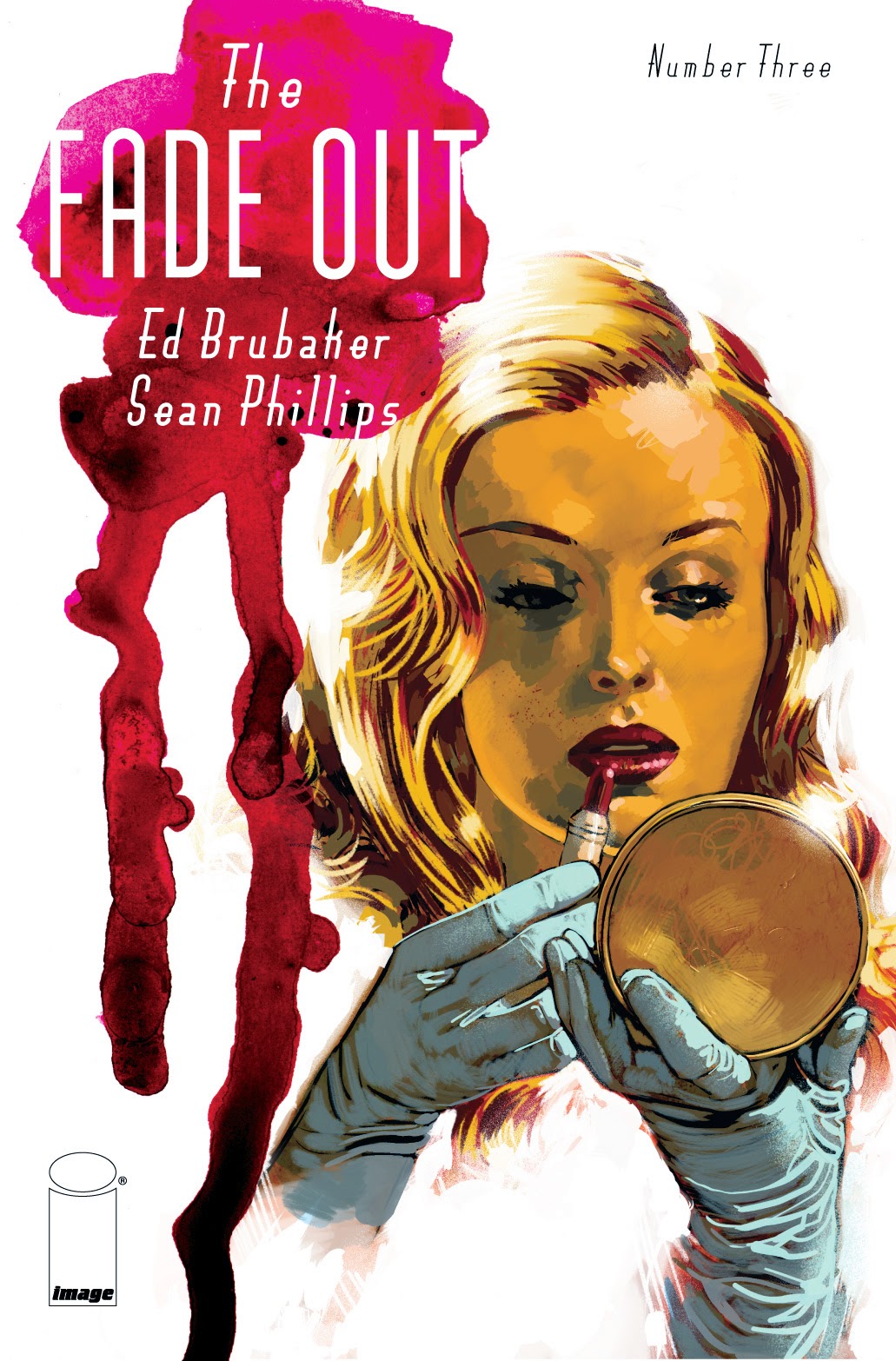 Let's begin with the art. Each of the separate issue covers are BEAUTIFUL. The artwork is fantastic both on the covers and within the pages, although a part of me really wishes that it were done in black and white to really give it that noir feeling. Other than that minor concern, everything about the artwork was gorgeous.
I really enjoyed the tone that this story was written in and it definitely felt like a noir film. I loved the incorporation of actual historical figures and cinematic stars from the time period. It made the story feel realistic and as though it could have actually been a true story from that era. The idea of a "whodunit" crime story always intrigues me and this graphic novel portrayed that kind of story very well. I could easily see this story being turned into a neo-noir film directed by the likes of Quentin Tarantino or Robert Rodriguez…better yet, the both of them together again in the style of Sin City would be fantastic.
There are quite a few characters which is usually something that I tend not to like, but in this case they all seemed well thought out and developed.
This volume left us with a bit of a cliffhanger and I am eager to find out what happens next! I would love to own a physical copy of this graphic novel some day.
Thank you to NetGalley for providing a free eBook for an honest review!
*Review also posted on Goodreads